---
Lightweight, ultra supportive with posture+ technology designed to make your baby feel lighter.
Invest in support. For you. For your baby. For your health and wellbeing.
The game-changing, lightweight carrier is designed to move with your body and support your baby from newborn onwards. The Posture+ design of the carrier provides the perfect amount of support, stretch, compression and breathability exactly where you and your baby need it.

Plus, this industry-first baby carrier comes with a results-driven, personalised fitness and wellbeing plan housed within the Carifit app and a team of expert advice and support at your fingertips. Access postnatal specific workout plans, physio led core rehab programs, sleep support and babywearing advice all proven to enhance your parenting experience.
Breathable lightweight construction, Carifit+ is just 750 grams!
Suitable for use with newborns to toddlers: 3.2kg-20kg
Fully breathable stretch 3D sports tech fabric
Overhead shoulder feature for easy carrier put on and take off
Foldable head and neck support
Complies with T.I.C.K.S guidelines for safe babywearing
12 month manufacturer's warranty





Each carrier repurposes 30 bottles

Recommended by paediatricians

Get 12 months free premium subscription when you buy the Carifit baby carrier now.
Product specification
Designed to make your baby feel lighter!
• Flexible head and neck support that adjusts as your baby grows
• Posture+ racer back for ultimate comfort
• Soft fabric adaptive sizing contoured to support your back
• Breathable sports tech fabric for a cool baby wearing experience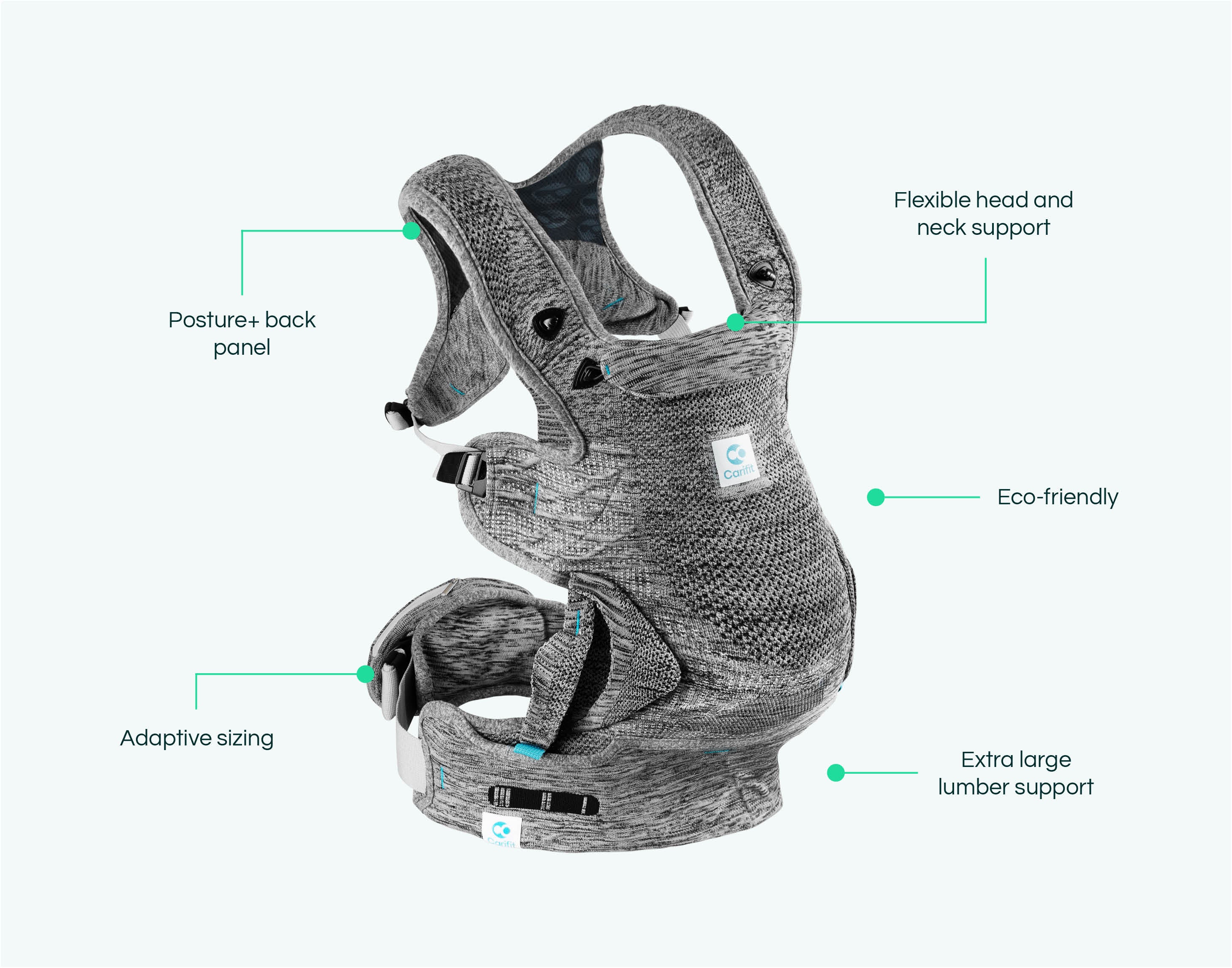 Materials & care

Material

Made from 3D Knit to create a super soft Breathable Recycled Mesh

Care Instructions

Machine Washable - see box for details
FAQs

When can you start using Carifit Baby Carriers?

The Carifit+ Baby Carrier can be used with newborns to toddlers: 3.2kg-20kg.

When can I start carrying my baby facing outwards in my baby carrier?

For most babies this will become developmentally appropriate between 5 and 7 months of age. There are key signs to look our for detailed in our blog post and much more personalised info in the carrier section of your Carifit app.

Are the fabrics used in the baby carrier safe?

The fabrics used in the Carifit+ are tested to the highest international safety standards. The Carifit+ provides a super soft, flex mesh experience and fabulous comfort for you and your baby.

Will my baby overheat in the carrier?

Layers are key when carrying, you should think of your carrier as one layer of clothing. It is important to dress you and your baby in less when using the carrier. We recommend starting off with less and adding more layers if needed. You can pop your hand down the front of their top or at the back of their neck to check baby's temperature. Carifit+ is a lightweight, breathable fabric.

I'm not sure I want to exercise is Carifit+ still a good choice?

Yes, Carifit + isn't just for workouts and parents with active ambitions, it's also a great carrier for everyday adventures providing you both with the ultimate comfort and support.

How do I redeem the 12 months free app subscription?

You can follow the instructions here to redeem your 12 free months subscription to our app. All you need is your Carifit+ packaging.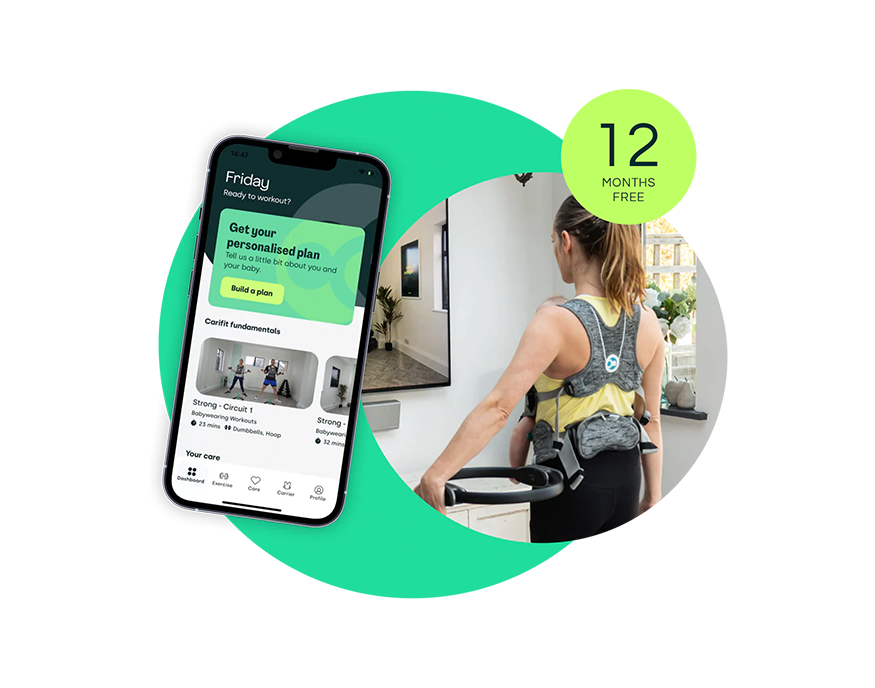 Every carrier includes 12 months access to the full Carifit Experience
Health and wellbeing support anywhere and anytime for you and your baby.
• Proven in studies to improve your mood, energy, fitness and mental wellbeing
• Access Carifit workouts on demand
• A babywearing consultant in your pocket to support you and your baby
• Expert physio, fitness, medical, sleep and mental health guidance
Share your moment with @cari_fit
Discover how Carifit+ Carrier & App can simplify daily life for you as a parent, be inspired by clever tips and perpetuate heart-warming moments with your child. Tag your photo with @cari_fit and be a part of our community.

Get stronger together
Experience the incredible physical, mental, social and emotional benefits of live babywearing workouts.
View in-person classes